Integrating uPerform and SAP Solution Manager 7.1 allows you to provide many document access and publishing features to your project team, including configuration and test personnel. SAP Solution Manager is a document management system used to maintain configuration, test, and training information related to your SAP system. Integrating Solution Manager with uPerform allows you to streamline SAP implementations and upgrades by allowing your test, configuration, and training teams to leverage content, thus cutting back on time spent creating documentation.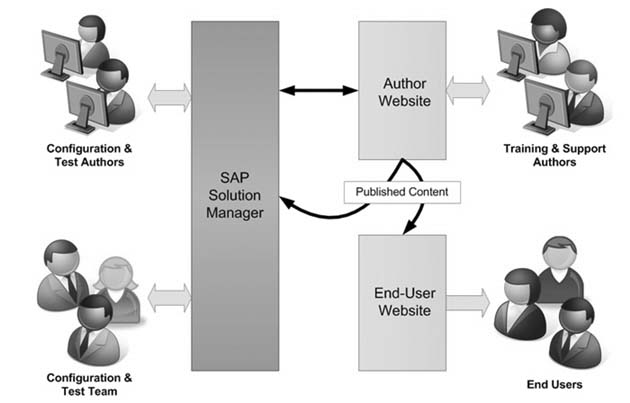 Before authors can create and manage documents using Solution Manager, the following administrative actions must occur:
Acquire an adapter license (available for a separate, additional fee from SAP).
Acquire a Solution Manager-enabled product key from ANCILE Solutions.
Install Support pack 18 or higher for Solution Manager.
Apply the required notes as listed in the Technical Specifications.
Install the SAP Productivity Pak by ANCILE adapter for Solution Manager (available from SAP).

| | |
| --- | --- |
| NOTE: | The SAP Productivity Pak by ANCILE adapter can be found on the Service Marketplace by searching for "ST-SPA". |

Install the SAP WIN GUI 7.1 Patch 4 or later on author computers.
Specify a connection to Solution Manager.
Create projects and users, and map users to uPerform.
Map document types and register outputs.
For more information on the requirements for integrating SAP Solution Manager and uPerform, refer to the Technical Specifications. For more information on installing SAP SP and the SAP GUI patch, refer to the SAP documentation.
| | |
| --- | --- |
| NOTE: | For online help regarding SAP Solution Manager, refer to http://help.sap.com/ and search for Solution Manager 7.1. |
After completing the steps above, authors can:
Create, open, lock, and delete uPerform documents from within the Solution Manager interface.
Manage access and approvals of individual published documents in uPerform.
Automatically upload published uPerform content into Solution Manager.